November 24th, 2015 by Edward
This is SUCH a cool job, and so EXACTLY up my street. It ticks so many of my boxes  – so when I am working on this project i am a happy little programmer.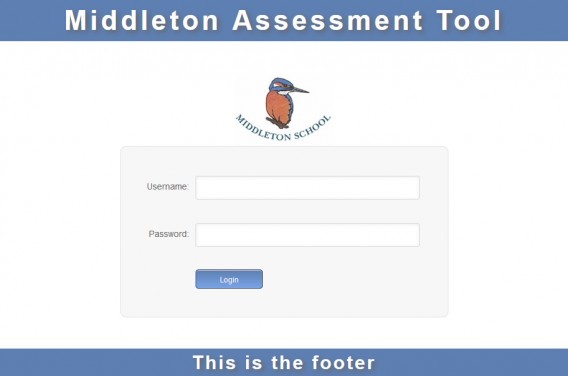 Middleton is a small school offering specialist care. They have been using a great program, based around Excel to store all their assessment data, and produce a variety of specialist reports for a range of audience – teachers, parents, governors, Ofsted and so on. However, support for this program is no longer available, and whilst it still works its becoming less and less future proof.
And now…
It was decided that it was time to move over to a web based system that could run across the school's intranet. Oddly, there seems to be no commercially available system for recording this sort of data – perhaps because there is a limited number of schools that will use it?
My brief then was to 'create a data management system' for a small organistaion. Ideal for someone who used to be 'in charge of data' at a large comprehensive school. The new system has to be easily portable, fast to run, secure, offering robust data and easy to update as technology marches forward. On top of that it has to be relatively straight-forward to respond to the ever changing demands of 'The educational powers that be' as they continue to tinker with the assessment requirements.
I have been working closely with a small team at the school to develop a system based around php and mysqli – ie web based technologies. Of course, there's a growing use of jQuery too, mainly used to enhance the 'User Experience' and some Cascading Style Sheets – to make it look good (more on that to come).
Obviously I can't show you live data – and anyway, the site is hidden on an intranet. It's also very much still in development.
However, here are some screen shots of what we're up to.
Entering Pupil Personal Data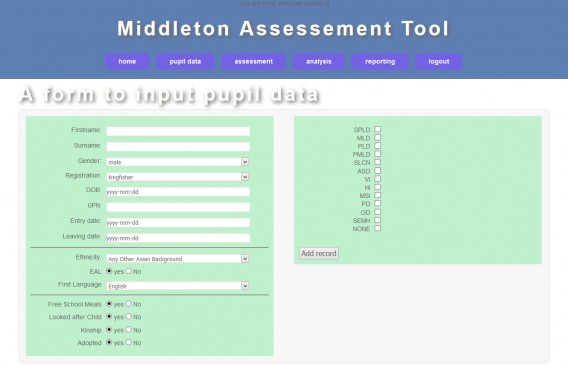 This is where all the 'personal' data for a pupil is entered – such as gender, unique reference number, ethnicity and date of entry to the school. Once in the system said pupil should be trackable across their entire sojourn at Middleton.
It doesn't look great? Well no, not yet. But it functions really well. You can add and edit a pupil and from this screen enter and store all the 'baseline' data about a pupil. So its a great foundation. Later on it in the project, when its a bit more 'mature' – then we can make it look pretty – at this stage we're building a foundation. For now its about user experience – just how easy is it to enter the data.
Preparing the Assessment Data
The first step in entering pupil data is do define the time period for which this data is relevant. I decided to make this the basis of how pupil assessment data is added. Once that is selected the user can work through whatever pupils they want to add.  This data is added by term/month – so we have a "December 2015 Moderated" for example and then tied to an actual data. this is important because in theory the data could be altered six months after it was added, thereby making it invalid for analysis.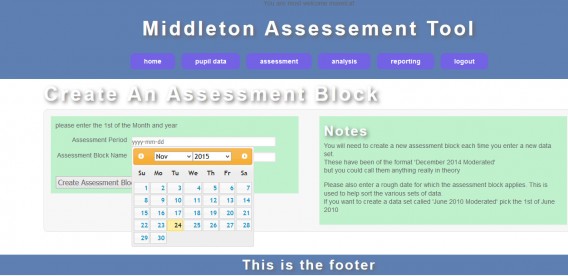 Entering the Assessment Data
The grade set especially is long – so the table is wide. After much thought about how else this grid could be displayed it was decided to stick with it. Therefore, the user interface was really important for this screen – so we have at least two visual prompts built in to help the 'data entry person'. (Both of these implemented by the very wonderful jQuery)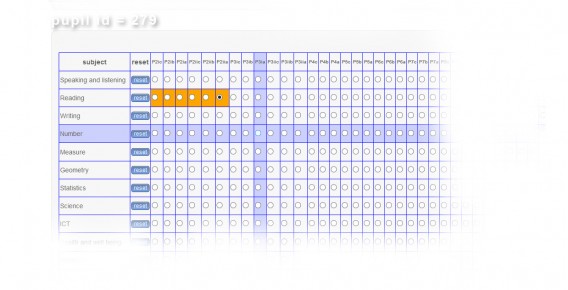 When a subject/grade is selected that grade, plus those less than that grade are filled in 'orange' – as a visual clue this is great because you can get a glimpse of how a child is performing across the board very quickly – and easily spot areas where the child is performing really well (yes – note the positive outlook – undiscovered 'g & t' maybe…) Is orange the best colour? It's bound to change, but its good for now.
Secondly there is a 'rollover' activated grid to enable the user to quickly reference what subject/grade they are on. When I was demonstrating this the staff really seemed to like it! It is hoped that this will reduce date-entry errors – after all, with such a huge number of possible levels, this could happen.
In conclusion
A project of this nature is by definition endless. There is always more that can be done. We are about half way through the initial development phase and so far it's going well. The school are about to enter 'real data' and I will begin querying the database to generate the reports. It will be a thrill when the first set of reports are printed off using the system.
Maybe you know an organisation that would benefit from some database work like this? If so why not tell them what we at ee-web can do! I love to have a chat, and remember 'advice is free.'

Edward owns and runs ee-web design and has been building websites for over 12 years. He is passionate about... most things really
Was this post helpful or interesting? Spread the news.
Leave a comment