May 19th, 2016 by Edward
It's been a good project, working again with a local business called 'Enfield Carpentry'. I did their first site – quite a few years ago, which was beginning to suffer from old age. I have taken the old site, and lovingly re-hosted it for posterity. So Enfield Carpentry enters ee-web's 'Internet Museum' as the first entry!  As you can see its small – small fonts, small images, small scope and in many ways I love it because of that. The other thing is that it loads almost instantly- guess what, that's because the amount of code behind it all making it work was small too. It was a piece of cake to maintain, and in fact it worked too – they got work from it.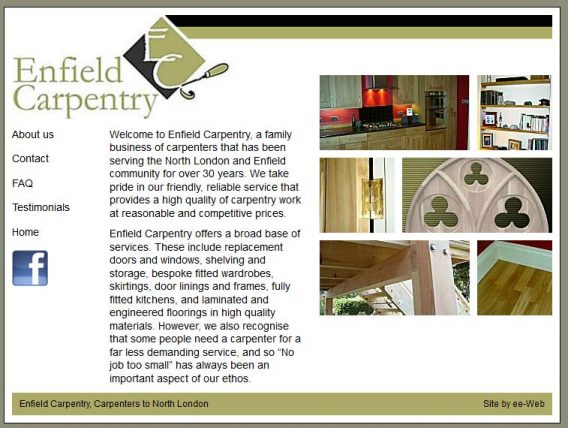 Health warning… Some of the image librarys and so on might not work for you – not since those nasty people at Apple killed of Flash and half of my work with it…
A New Site is Born
The new site is so different  – larger fonts, bigger images, more, well, just more 'techy' somehow. And of course it has to work on lots of different screen sizes, play more carefully with google, and be editable by the boys at EC – something that was much harder to do back when the first site was completed. The shot below shows just the a part of the homepage – you can see the differences…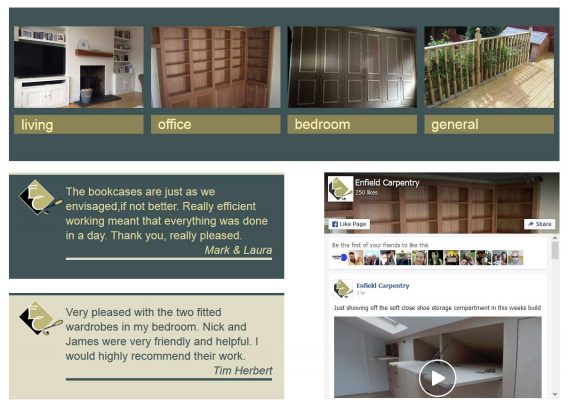 James seems very happy with the new site, and has been changing the content already; you can read his testimonial. I am sure he'll get work from the new site (he'll be banging on my door if he doesn't and who could blame him).
There was something lovely about the internet in those days – something which I think the money behind big business has taken away now – but that's another post. If you would like to take a trip down Memory Lane the please look at ee-web's Museum of the Internet.

Edward owns and runs ee-web design and has been building websites for over 12 years. He is passionate about... most things really
Was this post helpful or interesting? Spread the news.
Leave a comment