October 3rd, 2015 by Edward
Recently I have been working with the hugely talented Lydia Thornley on a new website for Sarah and Dale at Bermondsey Street Bees.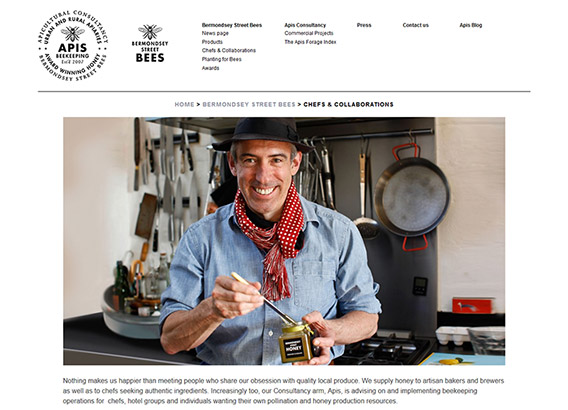 One of the great things about this project was the sense of intricate planning that went into the site. Not that I don't always plan, but for this job NO deadline or project milestone was moved, let alone missed. It was such a pleasure to have all the content when I asked for it. You know how it is with some clients – 'Please create a timeline' and within the first week things are slipping… To quote Douglas Adams –
I love deadlines. I love the sound the make as they go whooshing past
I took a look at the project and quickly decided that a bespoke template was needed. This was quickly confirmed layout was carefully laid out and presented for discussion. I always enjoy the chance to dig a little deeper in WordPress. You could argue that it is hugely over complex for what is need, and there are simpler systems (like joomla) out there. Having said that of course, WordPress does have some fantastic features, like the ability to set the image – resizing function so that in this case, the user uploads one image, and gets 3 different sizes created ready to fit perfectly in the defined dimensions within the site. Neat!
One of the great pluses was that was offered the chance to go and see the bees on the top of an apartment in Bermondsey Street. I was surreal looking at Hives with the Shard just a stones throw away. Sadly it was raining so I couldn't get dressed up in the bee suit… That as a shame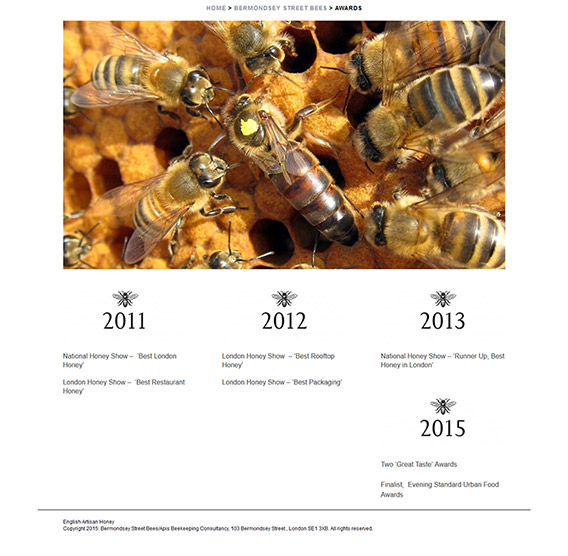 Another challenge for this site was that Dale had created over 230 blog posts in a very chatty style using an off the shelf template. So not only did we have to import all that content with its comments, images, categories and so forth, but we had to ensure that everything worked within the new layout. You just can't get that flexibility with a pre-built template (not without hacking into it a bit, which really defeats the object)
SO, a great project, with really professional people.
And a joy for me is that Sarah and Dale have been busy adding news and blogs to the site. Excellent
Perhaps you have a design that needs building? Contact Edward at ee-web design

Edward owns and runs ee-web design and has been building websites for over 12 years. He is passionate about... most things really
Was this post helpful or interesting? Spread the news.
Leave a comment