January 23rd, 2015 by Edward
Recently I have been working on how I run my business – well, I guess we business owners are always doing that aren't we?
I posted a question on a linkedin forum – with a mere 28,000 odd members.
Imagine my surprise when this post got LOTS of feedback – so much in fact that I became a TOP Contributor – and here's a screen shot to prove it.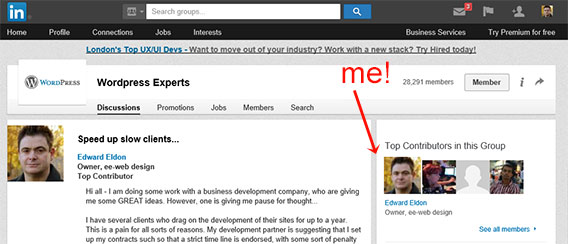 Edward owns and runs ee-web design and has been building websites for over 12 years. He is passionate about... most things really
Was this post helpful or interesting? Spread the news.
Wow, well done. I never get any attention on LinkedIn (yet!). 🙂
Leave a comment